Acclaimed independent Hip Hop artist Famoe has been making headlines and history for the last decade. Residing in Germany, Famoe has released records through Rap & Rhymes Records, Sony Music, Universal Music, Kontor Records, and more. For over seventy weeks he ranked on the Official Compilation Charts internationally. He recalls one of the most memorable and greatest collaborations of his career with Hip Hop West Coast legend Kurupt, the single titled "On My Side." Famoe has also worked alongside Serius Jones, TQ, Big Brovaz, Donnie Klang, Spider Loc/Hot Rod (G-Unit), Scola (Dru Hill), Darnell (Shai), and that's just naming a few.
The celebrated Hip Hop sensation continues to chart nationally and internationally. Chart accolades include several #1 iTunes charts in Turkey, Portugal, Belgium, and Canada, as well as several iTunes Top Ten charts in UK, Germany, Italy, Canada, Portugal, Belgium, and Turkey. On Spotify charts Famoe ranks on several compilation charts in Germany, Austria, and Switzerland, as previously noted, for over seventy weeks.
Famoe's latest single "What I've Been Through" was chosen as the official soundtrack for War From The Archives, an independent film out of Ghana. Not allowing himself anytime to breathe, Famoe is gearing up for his new single "Blessed" set to release on June 3rd.
With success surpassing lightspeed, It's no shock that Famoe has multiple nominations at this year's 11th Annual Richmond International Film Festival (RIFF) June 7th-12th, which is one of the largest festivals in the Mid-Atlantic. His nominations include Best Hip Hop/Rap Award, Overall Grand Jury Artist of the Year, Critics Choice Award, and Audience Choice Award. The festival brings together national and international artists in the music and entertainment industry, and attendees range from Oscar winners to emerging talent. The festival is jammed packed with films, live music showcases, industry panels, artist Q&A's, industry pitch sessions, entertainment mixers, and of course the red-carpet award ceremony. Visit rvafilmfestival.com for more information on the festival and visit Officialfamoe.com to connect with Famoe.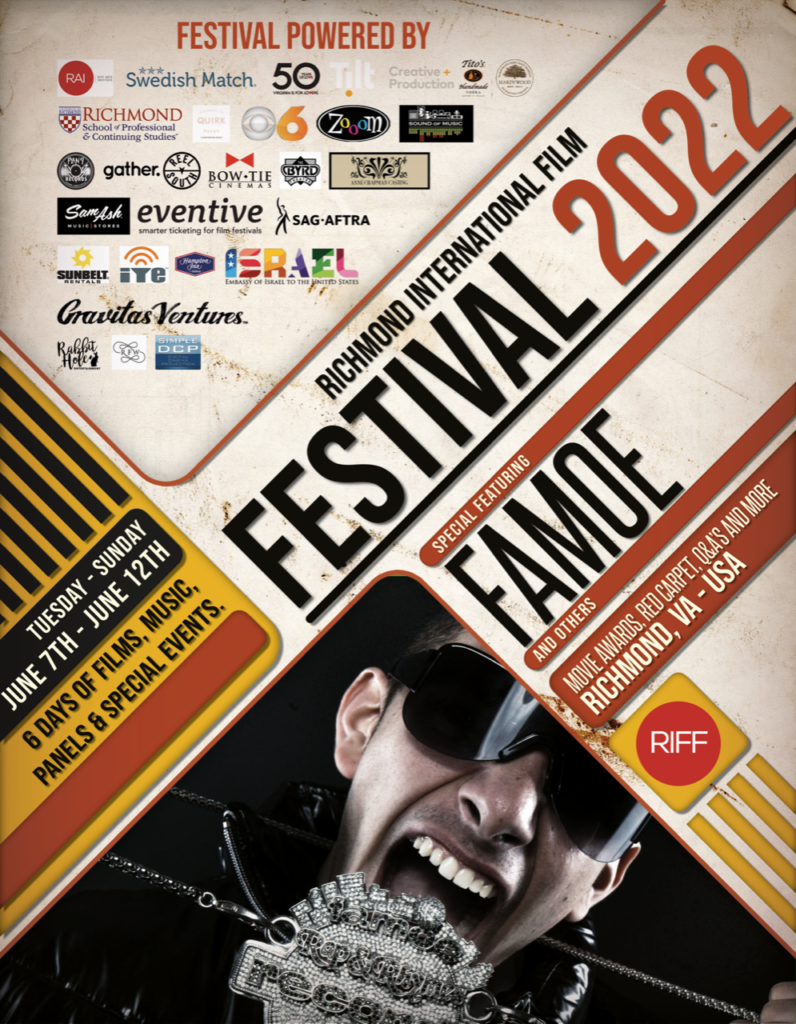 FESTIVAL APPEARANCES
Vagabond
700 E. Broad St
June 8, 2022, 6:00 – 10:30 PM EDT
https://riffva2022.eventive.org/schedule/621e33bd80ca50007e42bdbd
Outdoor Festival
Hardywood Brewery
2410 Ownby Ln
June 12, 2022, 12:15 – 6:15 PM EDT
https://riffva2022.eventive.org/schedule/621e33bd80ca50007e42bdcc
Red Carpet Awards
Byrd Theatre
2908 W Cary St
June 12, 2022, 8:30 – 10:30 PM EDT
https://riffva2022.eventive.org/schedule/621e33bd80ca50007e42bded
*written by Official Publicist Marissa Savino / MJsHipHopConnex
---
Check out the wethewest.com Source-Link here:
http://wethewest.com/indie-hip-hop-artist-famoe-nominated-for-4-prestigious-awards