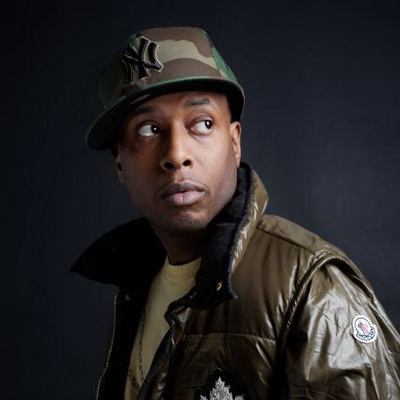 Talib Kweli
Rapper
If skills sold, Talib Kweli would have been one of the most commercially successful rappers of his time. As it was, however, the earnest MC became one of the most critically successful rappers of his time, which dawned in the late '90s when he rapped alongside Mos Def and DJ Hi-Tek as part of the group Black Star. This trio of up-and-comers and their widely acclaimed self-titled 1998 album debut, Black Star, helped make Rawkus Records one of the premier underground rap outposts of the late '90s. Kweli and Hi-Tek then collaborated as a duo on Reflection Eternal (2000), which firmly established them apart from Mos Def, who had gone solo. For a moment there, Kweli and his Rawkus associates seemed like a full-fledged movement -- a return to the sort of hip-hop associated with the so-called golden age. However, the Rawkus dispersed, leaving Kweli on his own to carry the torch. He continued his output, beginning with a proper solo debut, Quality (2002), and though he didn't rack up towering sales numbers, he remained a critical favorite. In fact, he was one of the most admired and respected rappers on the major-label circuit during the mid-2000s, best evidenced by Jay-Z's famous Black Album rhyme: "If skills sold, truth be told/I'd probably be, lyrically, Talib Kweli."
Born in Brooklyn as the eldest of two sons of college professors, Kweli's first name, Talib, is an Arabic name meaning "the seeker or student," while his last name is a Ghanaian name meaning "of truth or knowledge." He began developing his literary gift in elementary school, where he'd write short stories, poems, and that sort of stuff. It wasn't until years later in high school that he turned to hip-hop as an outlet for his self-expression. In high school, he met a young Dante Smith, better known today as Mos Def. This fateful meeting further drew Kweli toward hip-hop, and another fateful meeting further convinced him that he had a bright future as an MC. During a 1994 trip to Cincinnati he met Tony Cottrell, aka DJ Hi-Tek, who at the time was part of a local rap group called Mood. Kweli impressed Hi-Tek during their time together, and the DJ invited the MC to guest on several tracks for Mood's 1997 album Doom. Shortly afterward, Kweli and Hi-Tek formed a partnership as Reflection Eternal and recorded "Fortified Live," which a then-fledging Rawkus label released on its first Soundbombing compilation.
A year later in 1998, the two invited Mos Def into the mix, and the Black Star album resulted. And with it came critical acclaim that turned these guys into media darlings overnight. They might not have sold millions of albums, but Kweli, Hi-Tek, and Mos Def most certainly impressed a great many people, among them critics, fellow rap artists, and a lot of folks who enjoyed a good old-fashioned hip-hop album with an emphasis on beats, rhymes, and life. That was the end of Black Star, however. In 1999 Mos Def released his debut solo album, Black on Both Sides, and turned away from music and toward an acting career, leaving Kweli and Hi-Tek on their own. The duo returned to their Reflection Eternal partnership and released an album of the same name in 2000. It spawned a pair of minor hits: "Move Somethin'" and "The Blast."
When Kweli returned with his Quality album in 2002, things had changed a bit. For one, he was truly solo. It featured Kweli collaborating with a host of different artists, among them a young and promising yet still largely unknown producer named Kanye West. "Get By" was the fruit of Kweli's collaboration with West, and it became the rapper's biggest hit to date, aided quite a bit by a non-album remix featuring Jay-Z. The remix got a lot of radio play, but still, Quality didn't put up Jay-Z numbers and Kweli remained a critical favorite, a reputation cemented all the more in late 2003 when Jigga gave him the aforementioned high-profile shoutout in "Moment of Clarity."
All of this set the stage very well for The Beautiful Struggle, which dropped in fall 2004. The expectations for the album were high because of the Jay-Z rhyme, and also because a great many hip-hop disciples felt Kweli was long overdue for a commercial breakthrough. The album was undoubtedly his most commercial effort to date, featuring a few radio-ready hook singers like Mary J. Blige and Anthony Hamilton, not to mention a roster of hitmaking producers like the Neptunes, Just Blaze, and Kanye. Kweli subsequently split from his distributor, Universal, and lowered his profile for a bit, releasing a stopgap mixtape, Right About Now (2005), via Koch.
In anticipation of his next solo album, Kweli collaborated with producer Madlib on the digital-only Liberation, which was made available as a free download during the first week of 2007 on the Stones Throw website. Finally, in August of that same year, Kweli issued the full-length album Eardrum on his own label, Blacksmith, via a partnership with Warner Bros. Debuting at number two on the Billboard 200 and selling about 60,000 copies in its first week, Eardrum was Kweli's best-selling album to date and featured beats from not only Madlib but also Hi-Tek, Kanye, Pete Rock, and will.i.am, among others. In 2010, the album Reflection Eternal: Revolutions Per Minute reunited Talib and Hi-Tek under their Reflection Eternal moniker, then that same year, the solo Gutter Rainbows was the first album to be released by Talib's Talibra imprint. His 2013 release Prisoner of Conscious balanced radio-friendly numbers with more abstract tracks and featured Nelly, Curren$y, and Kendrick Lamar. The 2014 effort Gravitas followed the same path, this time with Big K.R.I.T., Mike Posner, and writer Neil Gaiman among its guests. A year later he returned with Indie 500, a collaborative album with underground producer 9th Wonder. Another collaborative effort -- The Seven with Styles P -- was issued in April 2017. Kweli returned seven months later with Radio Silence, an album on which he was joined by the likes of Bilal, Robert Glasper, Anderson Paak, and Jay Electronica.
~ Jason Birchmeier, Rovi