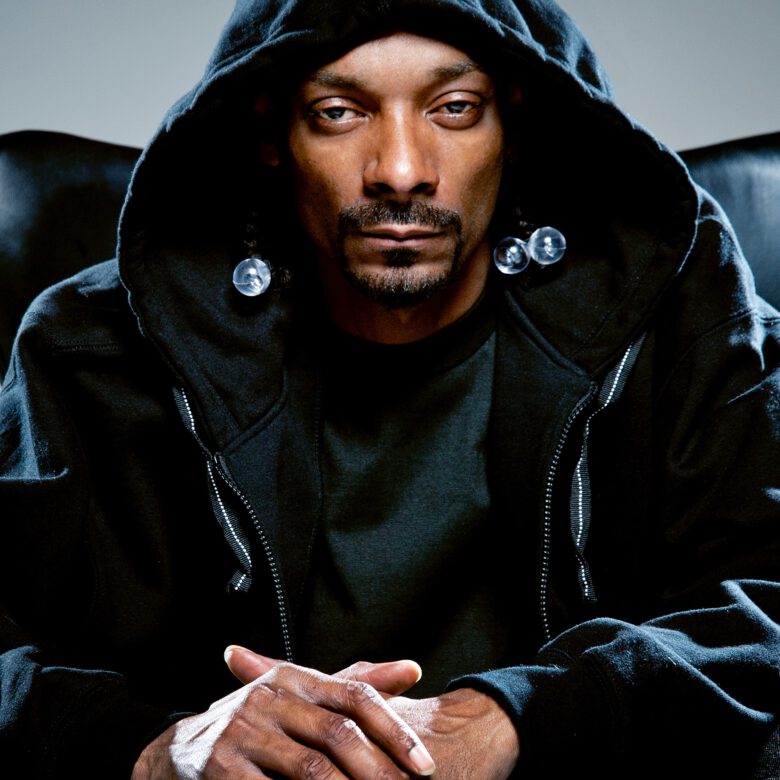 Snoop Dogg
Rapper
One of the most iconic figures to emerge from the early-'90s G-funk era, Snoop Dogg evolved beyond his hardcore gangsta rap beginnings, becoming a lovable pop-culture fixture with forays into television, football coaching, and reggae and gospel music. Introduced to the world through Dr. Dre's The Chronic, Snoop quickly became one of the most famous stars in rap, partially due to his drawled, laconic rhyming, as well as the realistic violence implied in his lyrics. His 1993 effort Doggystyle become the first debut album to enter the charts at number one. After the popularity of gangsta rap waned in the late '90s, he proved himself to be a masterful chameleon in the hip-hop world, riding his pot-loving image in various directions that helped buoy his career into the 21st century.
Nicknamed Snoop by his mother because of his appearance, Calvin Broadus was raised in Long Beach, California, where he frequently ran into trouble with the law. Not long after his high school graduation, he was arrested for possession of cocaine, beginning a period of three years when he was often imprisoned. He found escape from a life of crime through music. Snoop began recording homemade tapes with his friend Warren G, who happened to be the stepbrother of N.W.A's Dr. Dre. Warren G gave a tape to Dre, who was considerably impressed with Snoop's style, and began collaborating with the rapper.
When Dre decided to make his tentative first stab at a solo career in 1992 with the theme song for the film Deep Cover, he had Snoop rap with him. "Deep Cover" started a buzz about Snoop that escalated into full-fledged mania when Dre released his own debut album, The Chronic, on Death Row Records late in 1992. Snoop rapped on The Chronic as much as Dre, and his drawled vocals were as important to the record's success as its P-Funk-inspired bass grooves. Dre's singles "Nuthin' But a 'G' Thang" and "Dre Day," which prominently featured Snoop, became Top Ten pop crossover hits in the spring of 1993, setting the stage for Snoop's much-anticipated debut album, Doggystyle. While he was recording the album with Dre in August, Snoop was arrested in connection with the drive-by shooting death of Phillip Woldermarian. According to the charges, the rapper's bodyguard, McKinley Lee, shot Woldermarian as Snoop drove the vehicle; the rapper claimed it was self-defense, alleging that the victim was stalking Snoop. Following a performance at the MTV Music Awards in September 1993, he turned himself over to authorities.
After many delays, Doggystyle was finally released on Death Row in November of 1993, and it became the first debut album to enter the charts at number one. Despite reviews that claimed the album was a carbon copy of The Chronic, the Top Ten singles "What's My Name?" and "Gin & Juice" kept Doggystyle at the top of the charts during early 1994, as did the considerable controversy over Snoop's arrest and his lyrics, which were considered exceedingly violent and sexist. During an English tour in the spring of 1994, tabloids and a Tory minister pleaded for the government to kick the rapper out of the country, largely based on his arrest. Snoop exploited his impending trial by shooting a short film based on the Doggystyle song "Murder Was the Case" and releasing an accompanying soundtrack, which debuted at number one in 1994. By that time, Doggystyle had gone quadruple platinum.
Snoop spent much of 1995 preparing for the case, which finally went to trial late in the year. In February 1996, he was cleared of all charges and began working on his second album, this time without Dre as producer. Nevertheless, when The Doggfather was finally released in November 1996, it bore all the evidence of a Dre-produced G-funk record. The album was greeted with mixed reviews, and it initially sold well, but it failed to produce a hit along the lines of "What's My Name?" or "Gin & Juice." Part of the reason for the moderate success of The Doggfather was the decline of gangsta rap. 2Pac, who had become a friend of Snoop's during 1996, died weeks before the release of The Doggfather, and Dre had left Death Row to his partner Suge Knight, who was indicted on racketeering charges by the end of 1996. Consequently, Snoop's second album got lost in the shuffle, stalling at sales of two million, which was disappointing for a superstar.
Perhaps sensing something was wrong, Snoop began to revamp his public image, moving away from his gangsta roots toward a calmer lyrical aesthetic. He also began making gestures toward the rock community, signing up to tour with Lollapalooza 1997 and talking about two separate collaborations with Beck and Marilyn Manson. The solo Da Game Is to Be Sold Not to Be Told, Snoop's first effort for No Limit, followed in 1998; No Limit Top Dogg appeared a year later, and Dead Man Walkin' the year after that. Tha Last Meal followed in December of that same year. The heavy release schedule resulted in varying musical quality from album to album, but by the turn of the century, Snoop had become such a cultural phenomenon that his albums became almost secondary to the personality behind them. An autobiography appeared in 2001, followed by a stream of movie roles in several high-profile pictures. Late in 2002, Snoop released his first album for Capitol, Paid tha Cost to Be da Bo$$. He then switched to Geffen for 2004's R&G (Rhythm & Gangsta): The Masterpiece. The hit album spawned Snoop's first number one single, the Pharrell Williams-produced "Drop It Like It's Hot," as well as the hit "Signs" with Justin Timberlake and Charlie Wilson. R&G was followed a year later by Welcome to tha Chuuch: Da Album, a collection of tracks from the Welcome to the Chuuch mixtape series. That same year, he hosted a West Coast peace summit in hopes of squashing all beefs.
In 2006, he appeared on Tha Dogg Pound's Cali Iz Active and Ice Cube's Laugh Now, Cry Later. Toward the end of the year, the intentionally leaked "My Peoples" freestyle appeared. The track paid tribute to many of those involved in Cali's Latin rap community, so it was no big surprise when "Vato," with Cypress Hill's B Real, became his next album's lead-off single. The hard and very G-funk Tha Blue Carpet Treatment triumphantly capped off a year of heavy West Coast activity. In late 2007, he recruited two hip-hop veterans -- new jack swing legend Teddy Riley and West Coast hero DJ Quik -- and formed the production team QDT Muzic. The team oversaw Snoop's 2008 album, Ego Trippin', which included the single "Sensual Seduction."
In 2009, he issued Malice N Wonderland, the maiden release of a new alliance with the reactivated Priority label, which also signed him on as its creative chairman. He promoted the album a couple months prior to its street date when he hosted the live wrestling television broadcast WWE Raw. A year later, the CD/DVD set More Malice rounded up some odds and ends from the album and packaged them with a DVD featuring the Malice N Wonderland short film. He maintained his mainstream image with a star appearance on Katy Perry's "California Gurls," nabbing Snoop his third number one on the Billboard Hot 100. In 2011, he released Doggumentary, an album he considered the sequel to his classic debut. The record featured production from the likes of Swizz Beats, DJ Khalil, and Scott Storch, with guest artists including Kanye West, John Legend, Wiz Khalifa, and Willie Nelson. Also arriving that same year was a feature film with Khalifa, Mac + Devin Go to High School, along with its accompanying soundtrack.
After a 2012 trip to Jamaica, Snoop Dogg returned rechristened as Snoop Lion, and with the help of producer Diplo, he released his first all-reggae album, Reincarnated, on RCA in 2013. Another name change came later in the year when he became Snoopzilla and joined modern funkster Dâm-Funk for the project/album 7 Days of Funk. He returned to Snoop Dogg in 2015 when he partnered with Pharrell Williams for the hip-hop effort Bush. The album included the single "Peaches N Cream" and featured guest appearances from Stevie Wonder, Justin Timberlake, Robin Thicke, and Charlie Wilson. Coolaid, a back-to-basics effort for which Swizz Beatz served as executive producer, was released in 2016. That same year, Snoop teamed up with Martha Stewart for VH1's Martha & Snoop's Potluck Dinner Party, a variety show that featured bits with guest actors and performances by hip-hop musical guests. The show aired into 2017, the same year that Snoop issued the simultaneously nostalgic and in-the-moment Neva Left, which referenced classics by Biz Markie and A Tribe Called Quest.
For his 16th set, Snoop once again changed course, this time dipping into the gospel world for 2018's Snoop Dogg Presents Bible of Love. The collection featured guests from both the gospel and hip-hop worlds, topping the Billboard Gospel Albums chart upon release. A year later, Snoop returned to the streets for his 17th album, I Wanna Thank Me, a nostalgic set that celebrated his legacy while asserting his enduring place in contemporary hip-hop. In addition to guests YG and Slick Rick, the LP also included an appearance by the late Nate Dogg. In 2020, while locked down in quarantine due to the global threat of COVID-19, Snoop released the restless single "I Wanna Go Outside," setting his feelings of housebound frustration and concerns for the world's health to a funky, old-school instrumental.
~ Stephen Thomas Erlewine & Neil Z. Yeung, Rovi