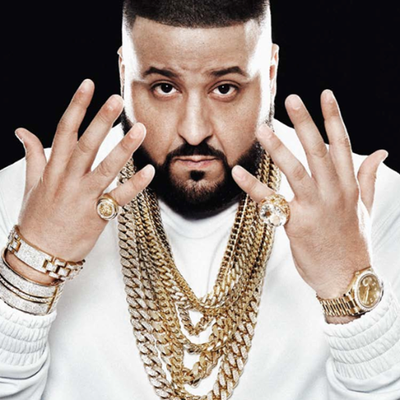 DJ Khaled
DJ / Producer
No overnight success, DJ Khaled toiled as a disc jockey for years before he became an immensely successful, larger-than-life figure in rap music. Since the latter half of the 2000s and throughout the following decade, surrounded by a cast of high-profile associates, Khaled has factored into triumphant crossover singles that have seemed like events. These include the Top Ten pop hits "I'm on One" (2011), "I'm the One" (2017), "Wild Thoughts" (2017), and "No Brainer" (2018), which count Drake, Justin Bieber, Chance the Rapper, and Rihanna among the eager featured artists. Khaled's first ten albums, from 2006 through 2017, peaked within the Top Five of Billboard's rap chart, while his tenth and 11th, Major Key (2016) and Grateful (2017) crowned the Billboard 200. The number two hit Father of Asahd (2019) made Khaled a Grammy winner when "Higher," a collaboration with Nipsey Hussle and John Legend, was awarded Best Rap/Sung Performance. Cynics have noted that Khaled rarely produces or writes material while wondering if he does more than yell, self-promote, and flaunt. Meanwhile, his base has had too good a time to care, charmed by his fun-loving spirit, ebullient interjections, and/or the well-placed talent that has flanked him. 
The son of Palestinian immigrants, Khaled Mohamed Khaled spent the first years of his life in New Orleans, Louisiana. His family moved to Orlando, Florida, where, at the age of 13, he started to learn how to DJ in his supportive parents' garage. Due to financial hardship, Khaled's family returned to New Orleans. While still a teenager, Khaled briefly worked at the city's Odyssey record store, networking with rising rap artists like Birdman and Lil Wayne and, to the dismay of his boss, running up the phone bill by placing long-distance calls to record labels. Khaled went back Orlando, then headed south to Miami and struggled to establish himself as a DJ in the reggae soundclash circuit. At Miami pirate radio station Mixx 93, Khaled approached the on-air DJs and asked for a portion of their time slot. Marcello Valenzano and Andre Lyon, who were on the brink of leaving town and becoming known as production duo Cool & Dre, obliged. Khaled made the studio his home and became an exuberant force on the city's airwaves. His reach extended with mixtapes and club gigs. He received a boost from Luther Campbell, who brought him on as a regular DJ for WEDR's The Luke Show, and was eventually granted a station slot of his own, shortly after he received his first production credits. 
Emboldened by his increasing popularity and number of connections, as well as his status as the DJ for Terror Squad, Khaled put together his first official mixtape, which led to a long streak of commercially successful proper albums. Debut full-length Listennn: The Album (2006), released through Koch, was a modest success due to the Afrika Bambaataa-sampling Cool & Dre production "Holla at Me." It hit the Top 20 of Billboard's rap chart and, like all Khaled hits that followed, involved several rappers. Khaled remained with Koch/E1 for three additional albums that placed a total of four singles in the pop Top 40: "We Takin' Over," "I'm So Hood," "Out Here Grindin'," and "All I Do Is Win." Made with a combined total of 14 rappers and seven producers, these anthems earned Khaled several gold and platinum certifications. Birdman, who was among the crew heard on the first of the big hits, added Khaled to the Cash Money roster for a period that entailed three additional albums: We the Best Forever (2011), Kiss the Ring (2012), and Suffering from Success (2013). Only "I'm on One" and "No New Friends" were added to Khaled's stack of Top 40 hits, but the parent albums either reached or nearly missed the top of the Billboard rap chart. 
After a one-album stint with Sony's RED division, which yielded I Changed a Lot (2015) and its single "Hold You Down," Khaled moved to major-label Epic for Major Key (2016). Prefaced with "For Free" and "I Got the Keys," his seventh and eighth Top 40 singles, the album debuted at the top of the Billboard 200. Only nine months later, Khaled released the Beyoncé and Jay-Z collaboration "Shining" as the first single off Grateful (2017), another number one hit. The album's second single, "I'm the One," put Khaled at the top of the Hot 100 beside guest stars Justin Bieber, Quavo, Chance the Rapper, and Lil Wayne. A third single, "Wild Thoughts" featuring Rihanna and Bryson Tiller, peaked at number two on the Hot 100, topping the Dance Club, R&B/Hip-Hop, and Rhythmic charts. After he and Demi Lovato collaborated on "I Believe" from the soundtrack to the film A Wrinkle in Time, Khaled scored his fourth Top Ten pop hit with "No Brainer" (2018), joined again by Bieber, Quavo, and Chance. Khaled followed with Father of Asahd (2019), an LP that entered the Billboard 200 at number two. The list of collaborators again numbered in the dozens, and featured Nipsey Hussle on "Higher," one of the rapper's last recordings. The song, also featuring a hook from John Legend, went on to win the 2019 Grammy for Best Rap/Sung Performance. In 2020, Khaled returned with two songs featuring Drake, "Greece" and "Popstar."
~ Andy Kellman