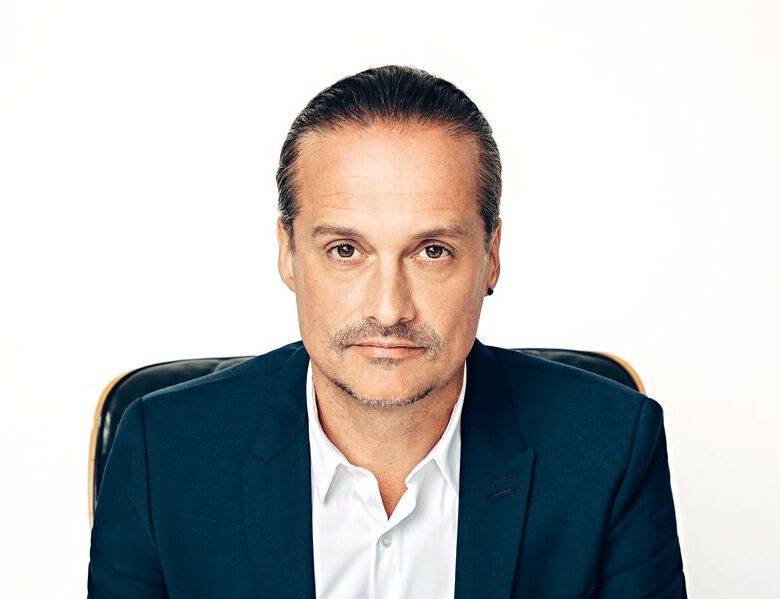 Alex Christensen
Producer
Born on 7 April 1967, the Hamburg-based DJ/producer did his first musical production in a porno synchronization studio. This very first single unfortunately flopped. 4 years later he produced his first chartbreaker : Ritmo de la Noche with the project Chocolate (sung by Verona Feldbusch). In August 1990 the single, released Europe-wide, reached #23 in Germany and remained in the charts during 21 weeks. The same year, Alex Christensen produced a remix of the song Oliver Cheatham's Get down Saturday Night.
He got his first taste of fame in 1991 with his project U96 when he spearheaded that group's powerful techno single Das Boot, a remix of the theme-song from the German movie of the same name. This track became an instant smash in Germany and other parts of Europe. A string of albums and singles were released by U96 over the following decade, with hits like I Wanna Be A Kennedy and Club Bizarre.
In 1994 Alex's former girlfriend was running Warner Chappell, which looked after Frank Peterson's administrative company Petersongs. She knew that Alex was not happy with the people he was working with at the time and so she organised a meeting between the two producers. 3 weeks after his initial introduction to Frank, Christensen was offered the Marky Mark project and so Frank and Alex's partnership began with the album Life In The Streets. Alex's administration company was originally called Pink as reflected in that album's credits, but was later changed to AC Music. Alex Christensen does not play any instrument but, as he himself says, "I learned through the years how to love and cherish computers".
In the same year Frank and Alex also formed the group PeCh featuring Chris Thompson, which released not only its branded singles but also under this name the duo provided various remixes for other artists. Peterson later invited Alex to co-produce tracks found on Sarah Brightman's Fly and Question Of Honour, and Princessa's Calling You.
In 1995, Alex Christensen produced the single Baby I Need Your Lovin, under the name of Wave Kid. Featuring a solo male vocalist, the style was between Inside Your Dreams and Club Bizarre.
As producer and composer he also worked for Tom Jones, N'Sync (If Love Is Blind), Oli.P and Marianne Rosenberg. He also did remixes for Jean Michel Jarre.
In 1997 he started his collaboration with Tony Catania and the group R'n'G (Urban/Motor). Together they released the singles Rhythm of My Heart (#35 in the charts, 12 weeks of presence), Here Comes The Sun, (#21, 23 weeks of presence). The next year came the succesful single Open Up Your Mind (#14, 13 weeks of presence), followed by the top 30 single Can't You C, I Love Your Smile (#47), Darlin' I Think About You (#73) and Tequila (#97).
Frank Peterson and Alex also worked on the Bravo All Stars single Let The Music Heal Your Soul which was written by Alex. At the end of 1998 he also produced Rap Allstars single Last Christmas (a remake of George Michael's song).
In 1998 too Alex created his own label Kingsize as well as the euro-pop project Rollergirl. Many hits followed : Dear Jessie (#13) then Luv You More in November 1999, then the album And The Party Keeps On Rollin and the single Eternal Flame.
Under the alias Don Alesandro Vito he produced the single Bis In Die Ewigkeit of Löwenherz. He also collaborated to La Luna and the album In der Höhle des Löwen.
2000 : Alex Christensen produced E-cyas single Are you Real ?. But his biggest success of the year was producing the album Planet Pop for pop-dance group ATC. Their first single Around The World had sold worldwide 3,8 million CDs. Alex Christensen received the Echo award for being "most succesful national producer" of the year in Germany.
2001 : he started collaborating with the group Right Said Fred. He was also jury member for the real-TV show Popstars, and produced the Brosis first single I Believe.
2002 : Alex Christensen won the BMI Award for 2.500.000 radio plays in America for ATC's Around The World. Alex created a project under his own name called Alex C. The featured vocalist was Yasmin K, another Popstar-made artist
2003 : among Alex's most recent productions were Jose Carreras and B3. It was also the year for a new U96 release : We Call It Love.
2004 : Natasha Thomas became one of the artists produced under Kingsize.
2005 : Alex produced the Canadian crooner Paul Anka's single Eye Of The Tiger. Kate Hall also became a new artist produced under Kingsize.
2006 : after 3 years, Alex Christensen decided to record a new U96 single.
2007 : it was time for a new Alex C single. Featuring Yasmin Knock, this time renamed Y-ass, it was entitled Du Hast Den Schönsten Arsch Der Welt (meaning "You have the most beautiful ass in the world"). It was a hit in Germany, reaching #1 in the sales charts.
2008 : The follow-up was called Doktorspiele and it was out in Germany on 18th January. The next single was entitled Du Bist So Porno.
2009 : in May, Alex represented Germany at Eurovision Song Contest 2009 with singer Oscar Loya and the single Miss Kiss Kiss Bang, a mix of swing and dance music, with special guest appearance of Dita von Teese. Alex was again a member of the German Popstars jury. In November, he finally released his last and long-awaited collaboration with Yass, Dancing Is Like Heaven. Yasmin Knock plans to start a solo carreer, still produced by Alex.
2010 : in March, Alex recorded a new single, a cover of Roxette's Listen To Your Heart. He produced former American Idol candidate Clay Aiken's recent album Tried and True. Songs on this album are covers of classics from the 50s and 60s.
2011 : Alex's new project is called Jasper Forks. After River Flows In You, the next single was entitled Alone. He started working on the album That's all Forks to be released as Jasper Forks.
2012 : Jasper Forks, his current project, released a new single entitled This Club Is A Wonderland. It was featured on compilation Top Of The Clubs Vol. 54. in April, Alex Christensen signed a record deal with Kontor. He announced that he was doing a break with his current Jasper Forks project, and that a new Alex C single was on its way, planned for release end of May